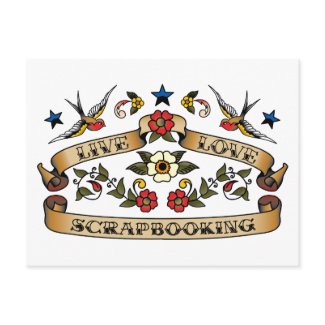 Isn't it fabulous that there is a day set up just for those of us who love (and are obsessed) with this hobby?!
What a great day NSD is!!
And to celebrate this wonderful day we are having a fun game and TWO giveaways!!
You are going to go on a
That's right! So much fun!
And do you want to know what you're playing for?
Of course you do!
2 lucky winners will win:
*****
Game Rules in order to enter:
Several Imaginisce Design Team members have each asked a question.
You must answer these questions by following the links that they have provided.
Please email your answers

(*in ONE email*)

to carilocken5@gmail.com
ALL questions must be answered in order to be eligible in the contest
Deadline for submitting answers is Monday, May 7th, 12 midnight EST
One lucky winner will be announced on Fri., May 11th, 2012
Ok, let's get the party started!!!!
Designer #1: REGINA MANGUM
Question#1: What color is the heel on Regina's high heel gift box?
Designer #2: DIANA FISHER
Question: How many clouds are on Diana's "Surf's Up" layout using the Makin' Waves collection?
Designer #3: MARY ANN JENKINS
Question: I love making all sorts of paper crafts, not just scrapbook layouts. Back in March, on the first day of the Makin' Waves release party, I shared a layout and one other project. What was it? (hint: I'm getting ready for those Hot Summer Days)
Designer #4: ILENE TELL
Question: Who is the little boy in the "Beach Bum" layout by Ilene?
Designer #5: TIFFANY HOOD
Question: What tool did Tiffany use to make the flowers on her card?
Designer #6: HEATHER LEOPARD
Question: For my "Family" mini album, created with the Sole Sisters collection, what did I use for the base of my album?
Designer #7: ADORA CONCEPCION
Question: Inspiration to create is everywhere & all around us. What was my inspiration to create this layout?
Designer #8: SHELLYE MCDANIEL
Question: What type of footwear is perfect for Summer?
Designer #9: GUISEPPA GUBLER
Question: What favorite techinque of mine did I use on both of these layouts? (hint: this technique gives dimension)
Designer #10: ABBY LAUBENSTEIN
Question: Abby's inspiration piece was a gift from who?
Designer #11: CARI LOCKEN
Question: How many Glam/Hot Rocks did Cari use on her layout "You are my I Love You"?
Designer: #12: REBECCA KEPPEL
Question: On Rebecca's "Wishes" layout, which Imaginisce tool did she use to inscribe on the Core'dinations cardstock?
Designer #13: RHONDA VAN GINKEL
Question: Which of my projects did I use the i-rock tool on?
So there you have it!
The questions and links to the answers.
Now all you have to do is email your answers to the email address provided above (under the game rules) and you'll be entered to win!!
Good luck!
Feel free to leave us a comment today letting us know how much fun you had hunting!
*******
We also want to invite you to join us next week!